Sun 3rd June
Fairport Convention
Fairport Convention @ The Fleur
Further details to follow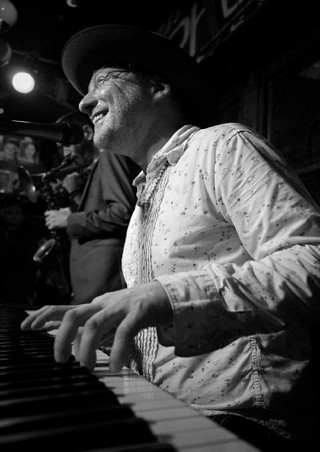 Fri 8th December
Dom Pipkin & The Ikos
London based piano player Dom Pipkin's keyboard style developed out of a love of the New Orleans piano professors; Professor Longhair, James Booker, Huey 'Piano' Smith, Jon Cleary, as well as from a whole host of jazz and blues influences. His solo set (most famously booked privately by the late Stanley Kubrik) shows his classical and sometimes rhapsodic influences, married with a tough approach to the blues and driving left hand rhythms. Dom Pipkin has also played with Morcheeba and regularly tours and records with Paloma Faith. His band The Iko's takes the New Orleans influence and fleshes it out with drums, harmonies, wailing sax etc, and has been resident at Ronnie Scott's London, and around the RnB club scene, where it's reputation as a top level live act is second to none "a serious piano player.." Blues In Britain Magazine
Wed 13th December
Christmas at the Fleur with the Faulty Towers Dining Experience
When the audience become diners in the 'Faulty Towers' restaurant, pretty much anything can happen – because two-thirds of the show is improvised. The fun starts as guests wait to be seated. It then hurtles along in a 2-hour tour de force of gags and shambolic service as Basil, Sybil and Manuel serve a Christmas 3-course meal together with a good dollop of mayhem. Expect the unexpected!
---
Welcome to the Fleur De Lys
T

he Fleur De Lys (Flower of the Lilly) originates from the 17th Century and is the only remaining pub in the picturesque Oxfordshire village of East Hagbourne. A short walk from Didcot the surrounding countryside is the perfect place for walking and dogs are very welcome in the Bar area.
Originally owned by the Lockinge Estate it is reputed to have been owned by the Napper family for 142 years before being sold in the 1950s to the Abingdon Brewer Morlands, founded in 1711 in West Ilsley by farmer John Morland. The pub still displays an original Morland Ceramic Painter Plaque, known as "The Artist Fayre" produced by Poole Pottery or associated Carter Tile Works designed by Reginald Bell.
Fleur De Lys Aunt Sally
A recent study revealed that Britons are falling out of love with pubs, and that the younger generation prefers socialising with friends at home. Not at the Fleur De Lys !
There is a comfortable bar area with open fire providing fine beers, wines and spirits. Our guest ales are carefully selected and change regularly.
The Restaurant offers an extensive home cooked menu, featuring traditional pub food lunchtimes and evenings. Where possible our produce is sourced locally and Chef's specials change regularly. The dining room can accommodate up to 50 guests making it the ideal venue for business functions, smaller intimate Wedding Receptions, Christmas Parties, Family Celebrations and Funeral Wakes etc.
We also have a large outside decking area ideal for alfresco eating or simply enjoying a few drinks with friends and family.
At the Fleur we are passionate about music and regularly host Music Evenings, details of which can be found on our events page.
Every first Wednesday of the month we have an informal acoustic/electric guitar evening covering popular songs from the 60s onwards.
Every third Wednesday a popular well established Folk Night which in 2017 will celebrate 25 years
On the second Monday of every month we hold a very popular Quiz Night.
We are very proud to support local artist and illustrator Linda Benton and several of her unique paintings, montages of village life are displayed throughout the pub and are available to purchase.

7 recommends