Mon 13th November
Pub Quiz
Starts promptly at 7.30pm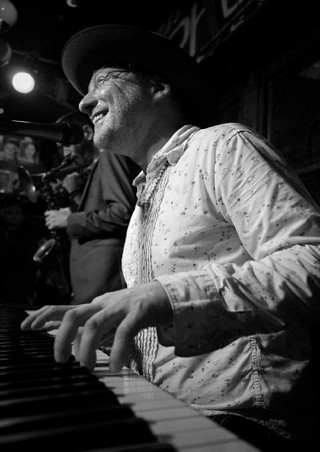 Fri 8th December
Dom Pipkin & The Ikos
London based piano player Dom Pipkin's keyboard style developed out of a love of the New Orleans piano professors; Professor Longhair, James Booker, Huey 'Piano' Smith, Jon Cleary, as well as from a whole host of jazz and blues influences. His solo set (most famously booked privately by the late Stanley Kubrik) shows his classical and sometimes rhapsodic influences, married with a tough approach to the blues and driving left hand rhythms. Dom Pipkin has also played with Morcheeba and regularly tours and records with Paloma Faith. His band The Iko's takes the New Orleans influence and fleshes it out with drums, harmonies, wailing sax etc, and has been resident at Ronnie Scott's London, and around the RnB club scene, where it's reputation as a top level live act is second to none "a serious piano player.." Blues In Britain Magazine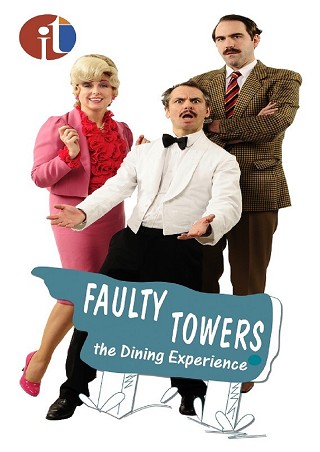 Wed 13th December
Christmas at the Fleur with the Faulty Towers Dining Experience
When the audience become diners in the 'Faulty Towers' restaurant, pretty much anything can happen – because two-thirds of the show is improvised. The fun starts as guests wait to be seated. It then hurtles along in a 2-hour tour de force of gags and shambolic service as Basil, Sybil and Manuel serve a Christmas 3-course meal together with a good dollop of mayhem. Expect the unexpected!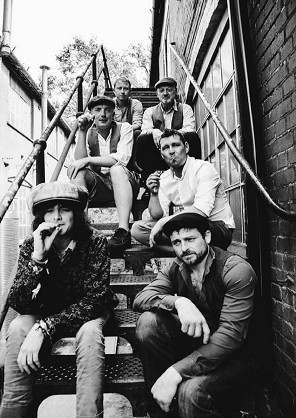 Sat 4th November
The Jar Family
The Fleur favorites return to play their unique blend of Rootsy, Industrial Folk Rock. Five singer songwriters who started out busking on the streets of Hartlepool with tip eventually formed a music collective travelling every corner of the country
Thu 16th November
A J Clarke and Dave Pegg
We are delighted to welcome back two firm favourites and legends of the folk scene, performing their popular 'duo' show a truly winning combination of talent, mirth and mayhem!
Legendary multi-instrumentalist Dave 'Peggy' Pegg (Fairport Convention, Jethro Tull) will be joined by one of the top singer-songwriters on the acoustic/folk scene, Anthony John Clarke. The evening will see the duo perform a variety of much loved songs and hits, with their own unique brand of humour and banter, 'seamlessly' blended into the proceedings!

Anthony John Clarke was born on 18th October 1956, in Belfast, Northern Ireland, a place where he spent much of his childhood, growing up during the 'Troubles' and conflicts of the late 1960's. He started songwriting at the age of nine, inspired by the music of the sixties and he later moved to Liverpool, living and performing as a singer-songwriter...
"All I ever wanted to be was a writer of songs. From the minute I heard Barry Maguire singing the song "Eve of Destruction" and held the single "Like A Rolling Stone" by Dylan in my hand. From those beautiful Sunday evenings I would sit and watch Al Stewart, John Martyn, Claire Hamill and Christy Moore and a host of other greats grace the University Hall stage in Belfast, and from the time I spent my paper round money on a second hand Eko Ranger 6 at Smithfield Market, I was doomed."

Audience quotes from some of Anthony John's gigs...
"Put simply, he was fabulous...Faultless stage-craft combined with superb musicianship..He really was the ultimate troubadour raconteur, the stories complimenting the songs..Just brill!"
- Lyceum Folk Club of Newport.

"Anthony John Clarke is up there for me with the likes of Al Stewart most certainly...a singer songwriter of such quality."
- Richard Brennan, Stortfolk Folk Club.

"If you haven't been to one of his gigs yet, just take time to do so - it will have an effect, I promise you. I bought his double CD and songbook at the end of the evening - the best value I've had out of twenty quid in a very long time. Brilliantly crafted songs and great entertainment. Nice one AJ".
- Vic Harrop, Bothy Folk Club.

www.anthonyjohnclarke.com

Dave Pegg was born on 2nd November 1947 and brought up in Acocks Green, Birmingham. He joined Fairport Convention in 1969.
As a teenager, Dave became involved in Birmingham's vibrant 60s rock scene. He soon found himself playing guitar most evenings with one or other of the city's young bands. Later, Dave auditioned as a lead guitarist with The Uglys but was persuaded to swap to bass guitar and has played the instrument ever since.

After a spell with The Uglys, Dave joined the Ian Campbell Folk Group on double bass and met fiddle maestro Dave Swarbrick by whom he was introduced to Fairport Convention. He joined them and has been in the band ever since.
In 1980, he joined Jethro Tull as bass player and spent 15 years with the band. As if playing in two bands was not enough, he set up Woodworm Records to produce and market Fairport's albums. He also recorded a solo album.

Dave has also co-organised Fairport's Cropredy festival since the early 1980s. From small beginnings, it has grown into a major event that attracts 20,000 fans each August.
As well as recording and touring with Fairport Convention and Jethro Tull, Dave is much in demand as a session player and has contributed bass to innumerable recordings. He is also an accomplished mandolin player.
Dave splits his time between his homes in Banbury, Oxfordshire and Merlevenez, Brittany.

www.fairportconvention.com
---
Welcome to the Fleur De Lys
T

he Fleur De Lys (Flower of the Lilly) originates from the 17th Century and is the only remaining pub in the picturesque Oxfordshire village of East Hagbourne. A short walk from Didcot the surrounding countryside is the perfect place for walking and dogs are very welcome in the Bar area.
Originally owned by the Lockinge Estate it is reputed to have been owned by the Napper family for 142 years before being sold in the 1950s to the Abingdon Brewer Morlands, founded in 1711 in West Ilsley by farmer John Morland. The pub still displays an original Morland Ceramic Painter Plaque, known as "The Artist Fayre" produced by Poole Pottery or associated Carter Tile Works designed by Reginald Bell.
Fleur De Lys Aunt Sally
A recent study revealed that Britons are falling out of love with pubs, and that the younger generation prefers socialising with friends at home. Not at the Fleur De Lys !
There is a comfortable bar area with open fire providing fine beers, wines and spirits. Our guest ales are carefully selected and change regularly.
The Restaurant offers an extensive home cooked menu, featuring traditional pub food lunchtimes and evenings. Where possible our produce is sourced locally and Chef's specials change regularly. The dining room can accommodate up to 50 guests making it the ideal venue for business functions, smaller intimate Wedding Receptions, Christmas Parties, Family Celebrations and Funeral Wakes etc.
We also have a large outside decking area ideal for alfresco eating or simply enjoying a few drinks with friends and family.
At the Fleur we are passionate about music and regularly host Music Evenings, details of which can be found on our events page.
Every first Wednesday of the month we have an informal acoustic/electric guitar evening covering popular songs from the 60s onwards.
Every third Wednesday a popular well established Folk Night which in 2017 will celebrate 25 years
On the second Monday of every month we hold a very popular Quiz Night.
We are very proud to support local artist and illustrator Linda Benton and several of her unique paintings, montages of village life are displayed throughout the pub and are available to purchase.

7 recommends