Out of consideration for the environment we will not be printing tickets for the following event, payment will secure your seat(s).
Please let us know in advance if you would like to eat
Anthony John Clarke & Dave Pegg
Thursday 22nd NOVEMBER 2018
"Grin and Tonic" Tour 2018
Music Cover £12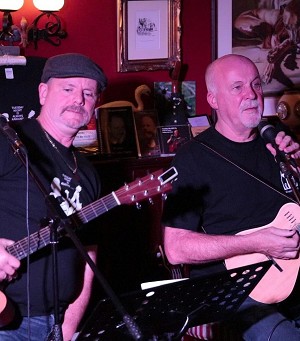 Two legendary musicians and consummate entertainers unite for an evening of outstanding song and music. Belfast born Anthony John is recognised as one of the top
songwriters on the acoustic/ folk scene credited with 12 albums and 3 singles 'Tuesday Night Is Always Karaoke', the beautiful "Seven in Ireland" and "Irish Eyes".
Legendary Fairport Convention multi-instrumentalist Dave Pegg joins An
thony John. Bassist with a number of important folk and rock groups including The Ian Campbell Folk Group and Jethro Tull he has appeared on some of the most significant albums of his era, as well as undertaking solo projects. His style of playing bass has been particularly influential in electric folk music.
The friends draw from a wealth of hits and much loved songs for an evening of exquisite, outstanding music and humour.
Peggy will also be signing copies of his autobiography "Off the Pegg"
Dave Pegg (or Peggy as he is known to friends and fans worldwide) is almost as admired as a teller of tales as he is as a bass player: and as a bass player, he is held in awe by friends, fans and fellow musicians. For years people have been saying he should turn his tales into a permanent record. "Write a book, Peggy", they yelled.
Now (with a little help from his friend and Fairport biographer Nigel Schofield) he finally has. In his own words it's all here: the thriving Brum music scene of the sixties; trad folk with The Campbells; Fairport, Jethro Tull, the Dylan Project; countless sessions; gigs from front rooms to the world's most celebrated stages; running his own recording studio and record label; homes from Sutton to Little Hadham to rural Oxfordshire to even more rural Brittany; an annual gathering that began as a village fete, became a reunion and is now one of the world's most respected festivals. There's also friends and fellow musicians, including some of the biggest names in the music business

THE BAR-STEWARD SONS OF VAL DOONICAN
UNDER 16 YEARS OLD £12.50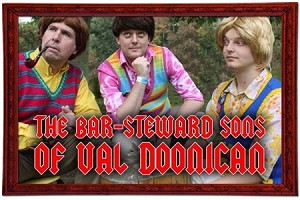 TICKETS £25
UNDER 16 YEARS OLD £12.50
UNDER 10 YEARS OLD FREE
Thursday 13th DECEMBER 2018
Only Fools the Cushty Dinning Experience
TICKETS £50 PP inc 3 COURSE CHRISTMAS DINNER